Jaringan video milik Google ini mengumumkan layanan TV streaming berlangganan yang baru, yaitu YouTube TV. Menawarkan koleksi saluran TV yang ditujukan untuk pelanggan TV kabel yang mereka pikir tagihan TV kabel itu terlalu tinggi.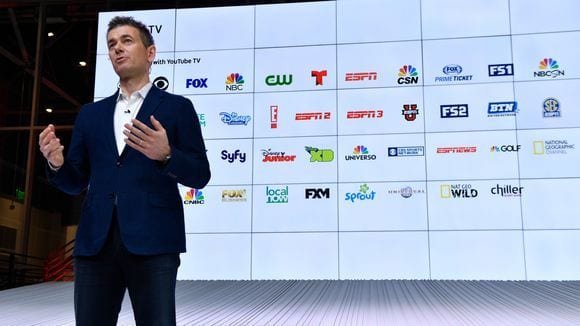 Seperti dikutip via usatoday.com ,biayanya adalah sekitar $35 per bulan, dan 40 saluran termasuk empat jaringan siaran seperti, CBS, NBC, ABC dan Fox, dan saluran kabel lainnya seperti USA, Bravo, MSNBC dan Fox News.
Yang hilang atau tidak ada adalah saluran seperti Turner, termasuk CNN, Cartoon Network dan TNT, jaringan Viacom, termasuk Comedy Central, MTV, VH1, dan Nickelodeon, Scripps (Food Network and Home and Garden) dan HBO. Berbeda dengan layanan seperti Hulu, yang menawarkan kemampuan untuk menonton acara TV dari NBC, ABC dan Fox tanpa iklan, atau layanan All-Access CBS, tetapi YouTube TV akan menampilkan iklan dari semua jaringan tersebut.
Seperti yang telah diumumkan oleh CEO YouTube, Susan Wojcicki mencatat bagaimana era smartphone telah mengubah segalanya "mobile smartphone telah menempatkan TV di tiap saku semua orang," katanya.
Pemirsa YouTube mencintai TV konten, "tetapi mereka tidak ingin menontonnya dengan pengaturan tradisional atau manual, seperti di ruang tamu hanya untuk menunggu acara favorit mereka. Mereka ingin mengkonsumsi live TV sesuai permintaan."
Dalam upaya untuk mengambil pemain yang sudah mapan, YouTube menyasar kepada konsumen atau pemirsa yang sebagian kawula muda, sebagai penonton yang milenium yang melakukan loncatan untuk berlangganan bulanan dan menonton jaringan TV.
YouTube adalah layanan video nomor satu, dan kurang lebih 1 miliar jam video ditonton konsumen atau pemirsa setiap hari di seluruh dunia! Itu termasuk video musik, video hewan yang lucu, dll.
YouTube mengatakan layanan ini akan diluncurkan dalam beberapa bulan ke depan. Konsumen diarahkan untuk mendaftar notifikasi tersebut di http://tv.youtube.com .
YouTube TV akan menjadi aplikasi yang berdiri sendiri dan bukan menggantikan atau menukarkan dengan aplikasi saat ini yaitu YouTube Red. Namun, produksi original untuk aplikasi Red akan ditonton di YouTube TV.