Hitput.com – Nih yang selama ini suka pakai BB Cream tapi gatau BB Cream apa yang bagus. Aku saranin banget pakai Emina BB Cream. Aku super duper jatuh cinta pakai ini, kenapa ? Alasan terbesarnya adalah karena gak ada satupun shade BB Cream merek korea yang cocok di skin tone aku hahahaha.
The Best Local BB Cream Ever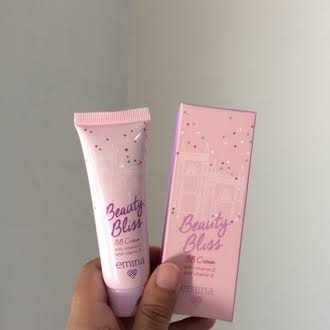 Buat yang mukanya gampang berjerawat, BB Cream Emina ini oke banget sih. Teksturnya ringan banget kalau dipakai di muka, and that's the good side for me karena jadi kayak gak berasa pakai bb cream. Kayak yang sering aku bilang, kalau yang kulitnya gampang jerawatan usahain jangan pakai make up yang terlalu berat.


Si Emina ini tingkat coverage nya low atau bahkan hampir gak ada sih. Bagi sebagian orang mungkin itu kekurangan yaa karena harus pakai concealer lagi untuk nutup dark spots, tapi aku fine-fine aja sih dengan itu soalnya kan tergantung kebutuhan juga. Untuk shade nya sendiri, waktu aku beli hanya ada dua shade, light dan natural. Pertama kali beli aku shade natural, dan setelah dicoba malah bikin muka jadi lebih gelap. Jadi aku sekarang pakai yang shade light, buat kalian yang skin tone nya kuning langsat kayak aku better pakai yang shade light aja. Warnanya gampang banget nge blend di kulit muka. Bikin kelihatan natural tanpa ada kesan cakey di muka (efek aloe vera gel juga yang bikin gampang nge blend).
Untuk BB Cream Emina ini harganya murah dan kemasannya mungil super lucu. Aku gak nyangka sih product local bisa sekeren ini. By the way, aku juga cobain lip cream matte dan eye shadow nya Emina. Dan lagi-lagi speechless karena dengan harga segitu, kualitas yang dikasih beneran super oke (lain kali aku akan review ya haha). Balik lagi ke BB Cream nya, you guys must try this one. This BB Cream is super affordable and worth to buy banget! What i bought ? Emina BB Cream Shade Light (IDR 32k).